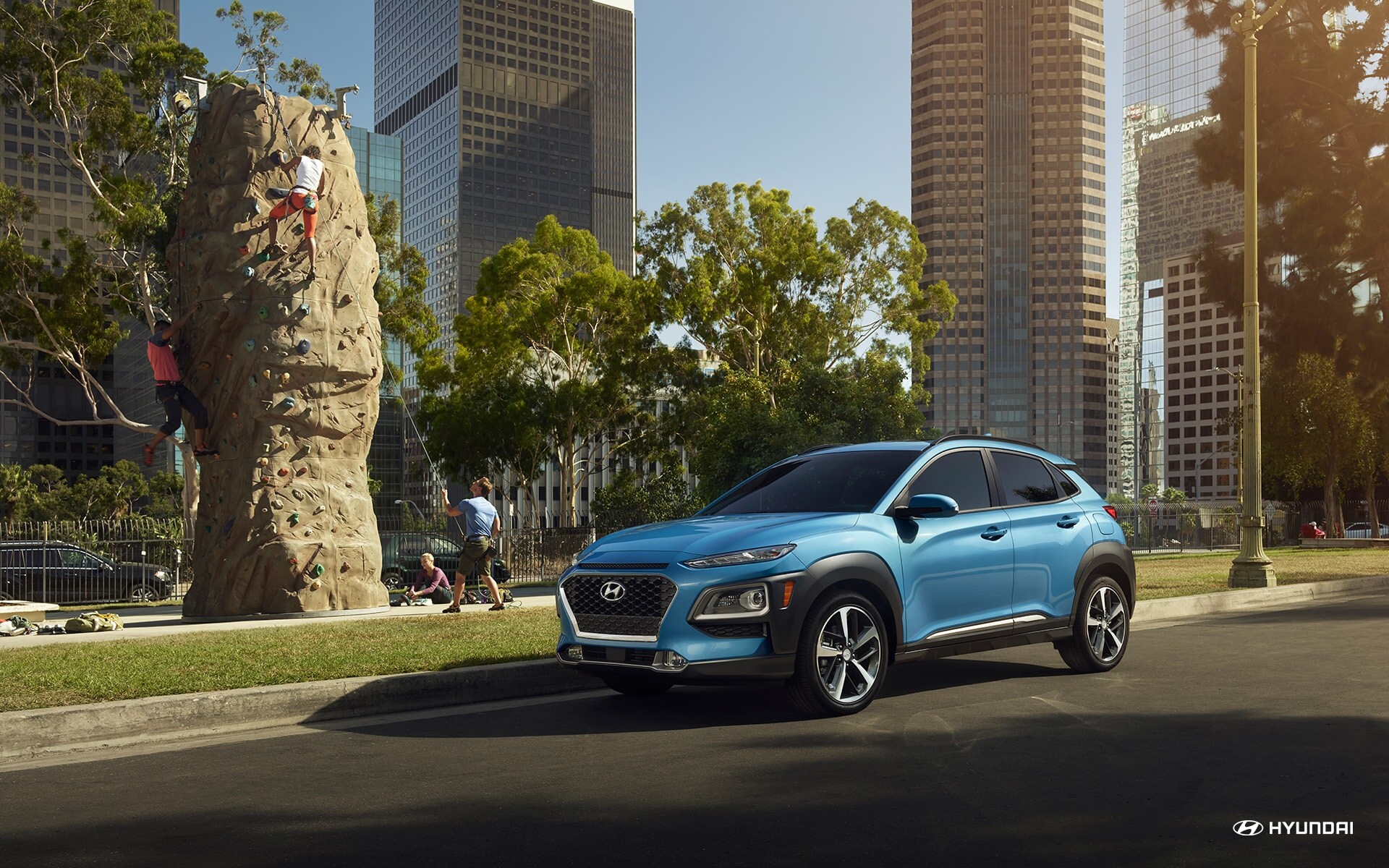 2019 Hyundai Kona with optional features shown above.
If you're thinking of adding a subcompact crossover with the latest safety features, comfortable interior, and impressive performance abilities to your automotive arsenal, you can't go wrong with the 2019 Hyundai Kona! We've decided to show you how it stacks up against one of its fiercest competitors, the 2019 Mazda CX-3, and why it ultimately takes the gold. Once you've skimmed through our comparison, come down to Hyundai City to check out all of its wonderful amenities during a test drive!
Performance
Since performance is most likely at the top of your list when shopping for your next vehicle, that's where we start. Each time you press down on the accelerator in the Kona, you'll feel a rush of power and excitement as its available 1.6L 4-cylinder engine spurs out 175 horsepower and 195 lb.-ft. of torque. That won't be the case with the Mazda CX-3, since its SKYACTIV®1-G 2.0L 4-cylinder system only provides you with 148 horsepower and 146 lb.-ft. of torque across all trims. Both models are equipped with a standard 6-speed automatic transmission. However, the Kona comes with the option to upgrade to the 7-speed EcoShift® dual clutch transmission, so you can feel every flawless gear shift while cruising down Route 130. Plus, because the Kona includes a 13.2-gallon fuel tank capacity on both FWD and AWD models, you'll get to enjoy longer adventures on the road. Sadly, the Mazda comes with a fuel tank capacity of 12.7 gallons with the FWD drivetrain and if you upgrade to AWD, it lowers to a capacity of 11.9 gallons, meaning you'll have to visit the pump more frequently!
Interior
Now, let's step inside the 2019 Kona and 2019 Mazda CX-3 to see all that awaits us. Right away, you'll see a touchscreen in the center console of both that's going to keep you connected as you drive. However, while the Kona has a standard 7-inch display, you always have the option of going with an 8-inch screen too, so you can clearly see your media as you travel. Unfortunately, in the Mazda CX-3 you're stuck with a 7-inch screen even on the highest trim level. Making your drive even more unforgettable in the Kona is standard Apple CarPlay™2 and Android Auto™3 integration. This way, you can tap into your favorite apps, text messages, and music library. Once again, these convenient innovations are not available on the Mazda model, so you'll have to leave some apps behind while behind the wheel. You and your copilot will get to stretch out just how you want as well in the Kona because you'll have a roomy 55.5 inches of shoulder room and 53.3 inches of hip room in the front. You might find yourselves fighting for space and bumping shoulders in the Mazda CX-3 as it only includes 53.3 inches of shoulder room and 52.3 inches of hip room for you and your front passenger, proving that the Kona puts your comfort at the forefront!
Safety
Before we conclude, we have to touch on some of the safety features that will keep you alert in each model. First, the Kona is equipped with Lane Keeping Assist4, which ensures you're always staying in your correct path and if you begin to deviate, it warns you and also slowly guides you back to the center. Even if you decided to spring for a higher trim level with the Mazda CX-3, you won't have this handy feature. On the Hyundai model, you'll also have standard Forward Collision-Avoidance Assist5. This system monitors the car in front of you and notifies you of any potential crash situations. Unfortunately, even if you went with the Mazda CX-3 Grand Touring, this feature is not available. One final preventative advancement that you'll have in the Kona is optional Driver Attention Warning6, which keeps tabs on your driving patterns and if you've become inattentive, it alerts you with an audible notification on your dashboard. As before, this feature does not come on any trim levels of the Mazda CX-3. The Kona is prepared to be your protector in your times of need!
We hope our comparison between 2019 2019 Hyundai Kona vs 2019 Mazda CX-3 in Burlington, NJ, has shown why the Kona crossed the finish line first! Stop by Hyundai City during our business hours to check it out with your own eyes and find out how it can be yours. We hope to see you soon!
1. SKYACTIV is a registered trademark of Mazda Motor Corporation.
2. Apple is a trademark of Apple Inc., registered in the U.S. and other countries. Apple CarPlay is a trademark of Apple Inc. Android Auto is compatible with Android phones running Android 5.0 or newer. 
3. Android Auto may not be available on all devices and is not available in all countries or regions. Additional apps may be required. Android Auto is a trademark of Google Inc.  
4. Lane Keeping Assist is not a substitute for safe driving practices, but is a supplemental assist only. The driver is responsible for always maintaining command and control of the vehicle and must keep hands on the wheel at all times. Do not drive if you are drowsy. Drivers must read their Owner's Manual thoroughly before using Lane Departure Warning and Lane Keeping Assist.
5. Forward Collision-Avoidance Assist is intended to be a supplement to safe driving practices. The system is not designed to detect certain stationary objects such as trees or poles, and may not detect all vehicles or pedestrians under certain conditions. The system is a driver assistance system and is not a substitute for safe driving. The driver is responsible for being attentive and maintaining control of the vehicle, and should not wait for the system's alerts before braking as there may not be sufficient time to brake safely. Refer to your Owner's Manual for more information.
6. Driver Attention Warning is only a warning to inform the driver of a potential lack of driver attention or drowsiness. It does not detect and provide an alert in every situation. Refer to your Owner's Manual for more information.
Hours
Monday

9:00 AM - 7:00 PM

Tuesday

9:00 AM - 7:00 PM

Wednesday

9:00 AM - 7:00 PM

Thursday

9:00 AM - 7:00 PM

Friday

9:00 AM - 7:00 PM

Saturday

9:00 AM - 4:00 PM

Sunday

Closed
Make an Inquiry